Cooking kits, dressings, ready meals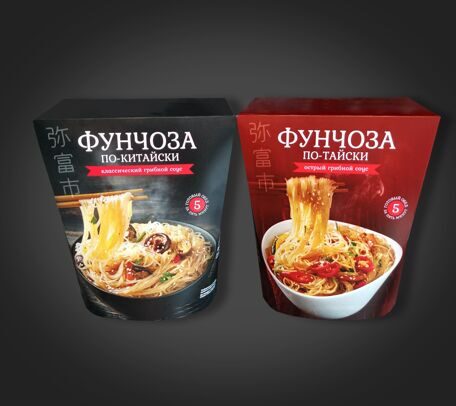 Funchose with mushroom sauce
Packaging type: china box
Net weight: 127g
Pcs per pack: 24
Dressings for funchose, carrots and asparagus
Packaging type: sachet
Net weight: 60g
Pcs per pack: 20-30
Cooking kits Teriyaki chicken, Japanese fish, Chinese pork
Packaging type: sachet
Net weight: 120g
Pcs per pack: 20
Buckwheat porridge
Packaging type: cup 2GO
Net weight: 120g
Pcs per pack: 24
Muesli fruit and berry

Packaging type: cup 2GO
Net weight: 80g
Pcs per pack: 24
Oatmeal with protein
Packaging type: cup 2GO
Net weight: 80g
Pcs per pack: 24
Oatmeal with protein
Packaging type: flow-pack
Net weight: 50g
Pcs per pack: 6
Sesame fried

Packaging type: sachet
Net weight: 15g
Pcs per pack: 400
Production of Cooking kits and ready meals with a unique recipes
Production of cooking kits, dressings and ready meals for the shelves of retail chains.

Realizing the specifics of the market, we are ready to offer an individual approach to each project and develop a new exclusive concept for the production under your private label.
We guarantee a stabe high quality of manufactured products.
Production space is equipped with the high-tech equipment that ensures the production of sauces 24/7. It has been certified in accordance with the international system of quality and technological processes control.

Contact us to get an offer. In 9 out of 10 cases, our offer is the most profitable one.