Sauces / Single Use Packaging / Private Label
Soy sauce dip pot

Packaging type: dip pot
Net weight: 30-50g
Pcs per pack: 150
Soy sauce dip pot
Packaging type: dip pot
Net weight: 30-40g
Pcs per pack: 240
Soy sauce stick
Packaging type: stick
Net weight: 10g
Pcs per pack: 250-500
Soy sauce sachet
Packaging type: sachet
Net weight: 10-40g
Pcs per pack: 200-500
Wasabi stick
Packaging type: stick
Net weight: 5g
Pcs per pack: 300-600
Wasabi sachet
Packaging type: sachet
Net weight: 10g
Pcs per pack: 250-500
Ginger pink dip pot
Packaging type: dip pot
Net weight: 30g
Pcs per pack: 150
Ginger white dip pot

Packaging type: dip pot
Net weight: 30g
Pcs per pack: 150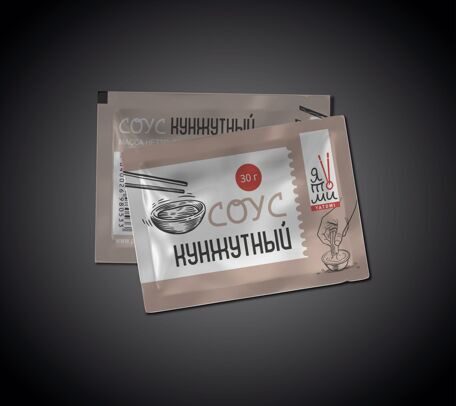 Sesame sauce sachet

Packaging type: sachet
Net weight: 30g
Pcs per pack: 150
Meat sauces sachet

Packaging type: sachet
Net weight: 5-20g

Pcs per pack: 250-500
Mayonnaise sauces

Packaging type: stick
Net weight: 10g

Pcs per pack: 400
Teriyaki sauce sachet

Packaging type: sachet
Net weight: 30g
Pcs per pack: 150-250
Olive oil sachet

Packaging type: sachet
Net weight: 2-5g

Pcs per pack: 500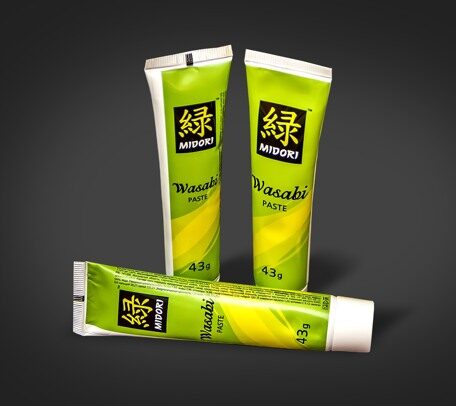 Wasabi tube

Packaging type: tube
Net weight: 43g

Pcs per pack: 100
Teriyaki sauce bottle

Packaging type: bottle PET
Net weight: 300g

Pcs per pack: 24
Sushizu bag-in-box

Packaging type: bag-in-box
Net weight: 20kg

Pcs per pack: 1
Unagi sauce bag-in-box

Packaging type: bag-in-box
Net weight: 20kg

Pcs per pack: 1
Teriyaki sauce bag-in-box

Packaging type: bag-in-box
Net weight: 20kg
Pcs per pack: 1
Sauce for rice bag-in-box

Packaging type: bag-in-box
Net weight: 20kg
Pcs per pack: 1
Sauces production / PL

The main business scope of the company is the production of sauces under PL. Upon request of customer, we can create a recipe and technology for any type of sauce, or adapt the required technology in production.
We guarantee a stabe high quality of manufactured products.
Production space is equipped with the high-tech equipment that ensures the production of sauces 24/7. It has been certified in accordance with the international system of quality and technological processes control.

Contact us to get an offer. In 9 out of 10 cases, our offer is the most profitable one.